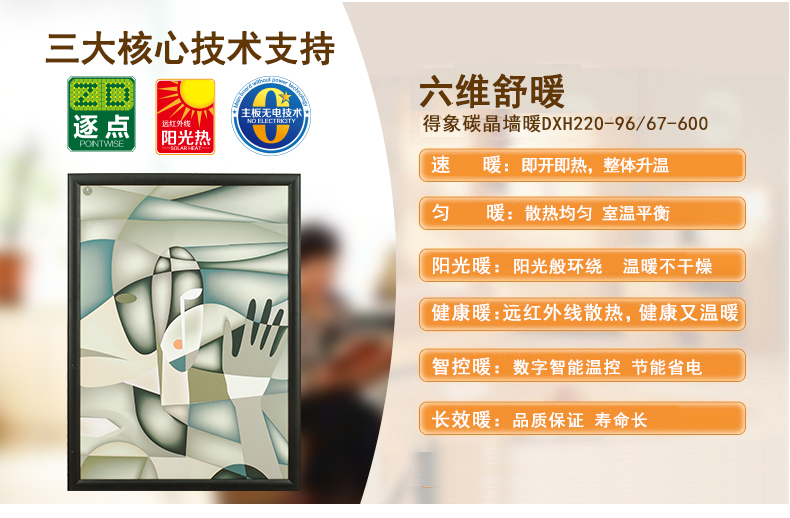 Like using point by point carbon crystal comfortable warm r&d center, far infrared hot sunshine, motherboard without electricity technology, developed by adopting new materials with high quality, meet the demand of consumer parties, high quality stereo shu warm effect.
Rapid heating, heat evenly, sunlight, warm, intelligent control, long life advantages at an organic whole, in six dimensions comfortable warm environment, the human body, the thought is in good condition, no matter the job, rest can get ideal effect.
Speed warm: the \"point\" patent technology, heat up quickly, 1 minute is hot. Point by point patent technology as support, panel after the electricity, sharp cooling outward, 20 minutes later, the indoor temperature is reached set value, feel whole body have the warm indoor people.
And warm: the \"point\" technology, heat evenly, room temperature balance. Point by point patent technology as support, carbon molecules overall radiating outward, no cooling blind spots, technically to eliminate electric hot plate cooling uneven phenomenon, make indoor temperature balance.
The sunlight warm: using far infrared radiation to heat dissipation. \"Far infrared hot sunshine\" technology as support, people like in sunlight, the whole body feel comfortable. \"Sunshine, warm of body and mind\".
Warm care: \"far infrared hot sunshine\" unique technology, use of far infrared radiation, keep healthy. Far infrared ray, known as \"the light of life, under the far infrared radiation,\" times bar body, the diversity of life \".
Intelligence control warm: using digital temperature control technology, intelligent control temperature, saving energy consumption. Like carbon crystal heating, equipped with digital temperature control equipment, operation is extremely simple, make the room in keep warm at the same time, save electricity. \"Warm save money, is really simple.
Long-term warming: using high quality materials, quality assurance, and building with life \". With the support of \"the mainboard without electricity\" technology, electric heating plate longer period to 50 years, no maintenance, do not need to change, save money, and effort, it's no bother. \"One installation, a lifetime warm\".